http://criticalthinkings.net/
Dołącz do nas na Facebooku: https://www.facebook.com/criticalthinkings
CAT przewodnik dla użytkownika PL
CAT guidelines for educators_EN
CAT Wskazówki dla edukatorów_PL
Partnerzy konsorcjum zebrali najlepsze praktyki swoich krajów w zakresie rozwoju krytycznego myślenia. Zobacz i zainspiruj się:
The Consortium partners collected their countries' best practices for critical thinking development. Take a look and get inspired:
http://criticalthinkings.net/product/uploads/CAT_BestPractices_Collection.pdf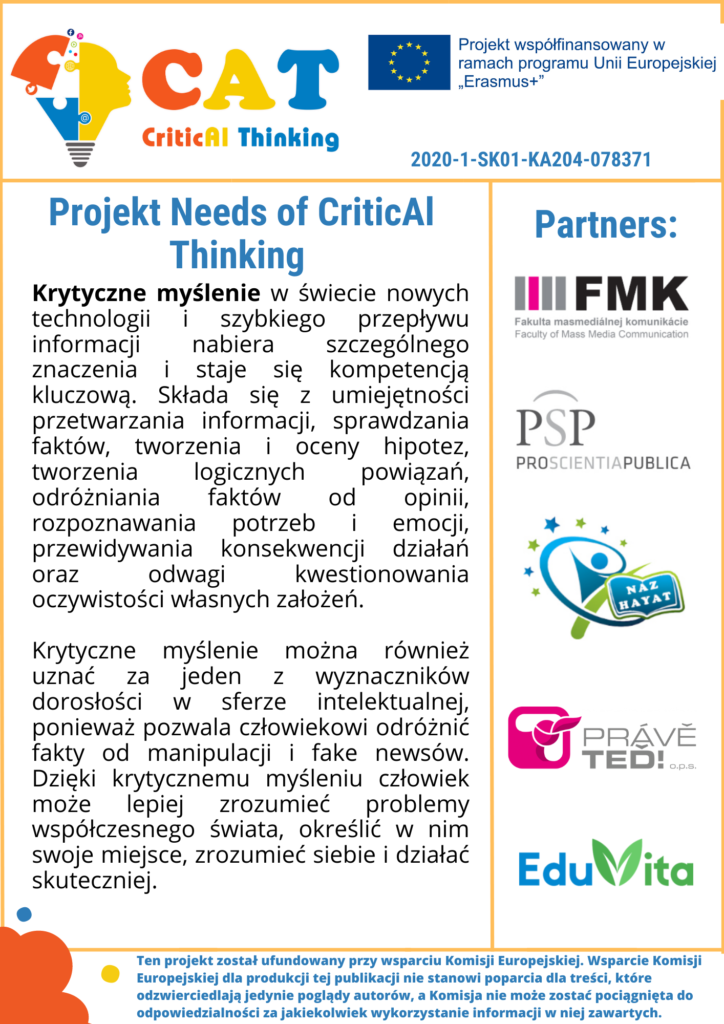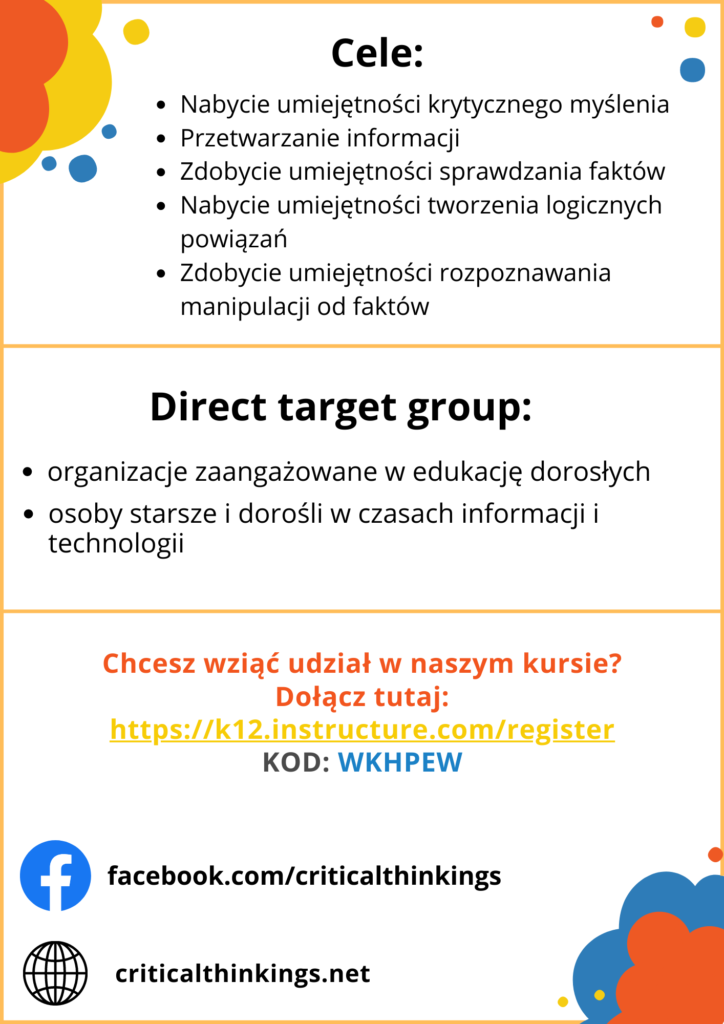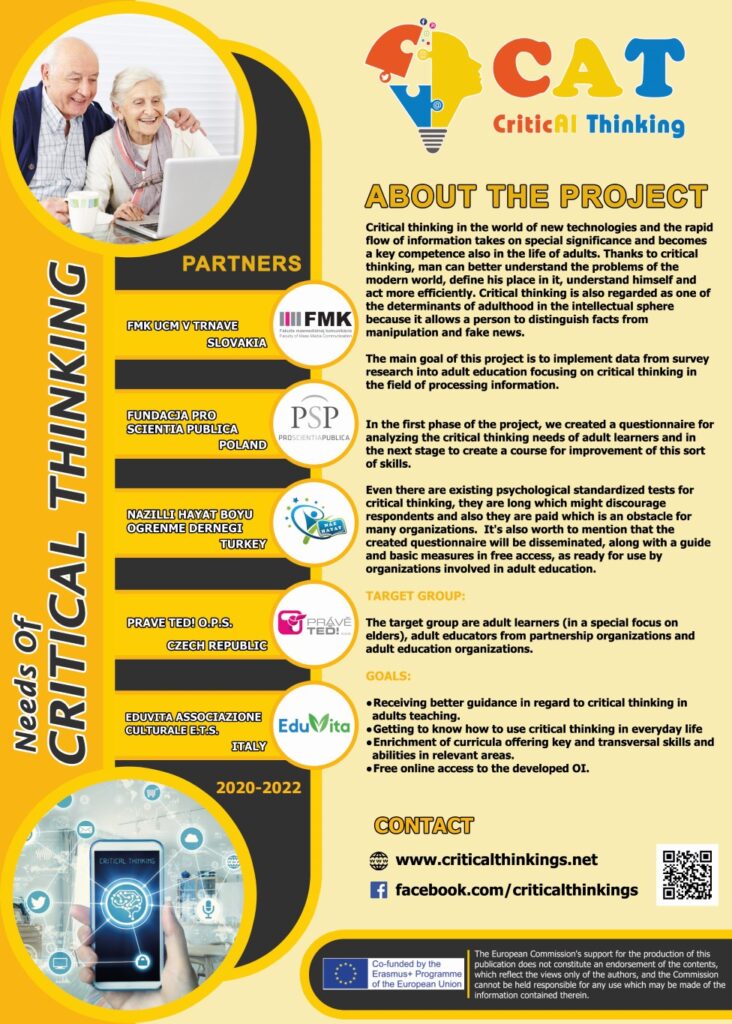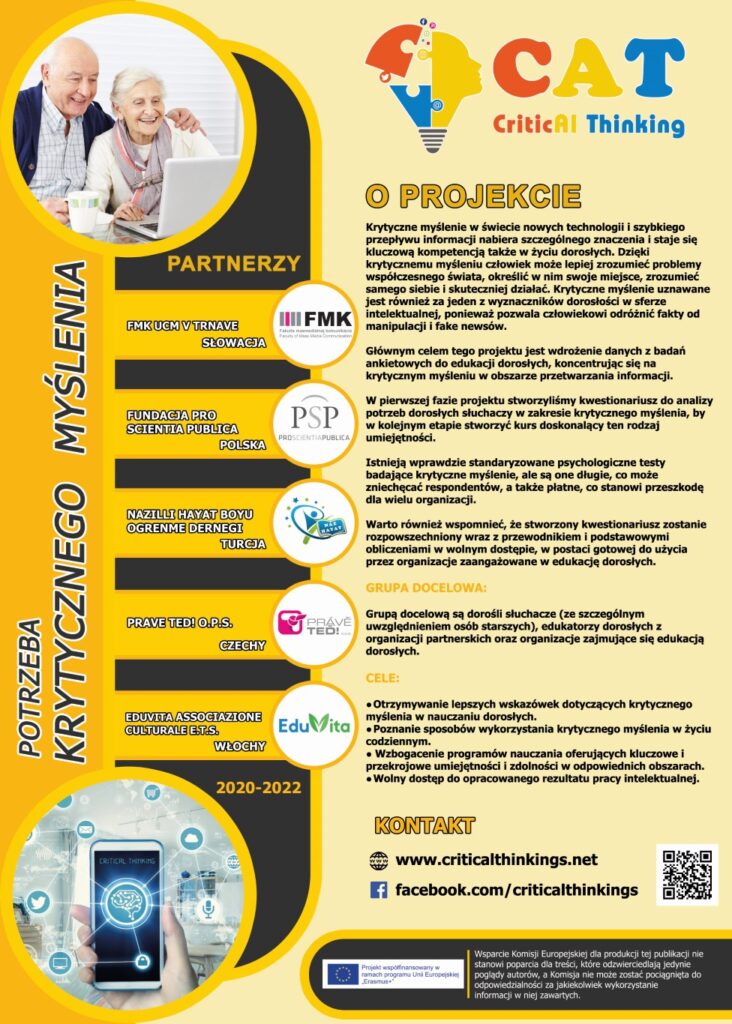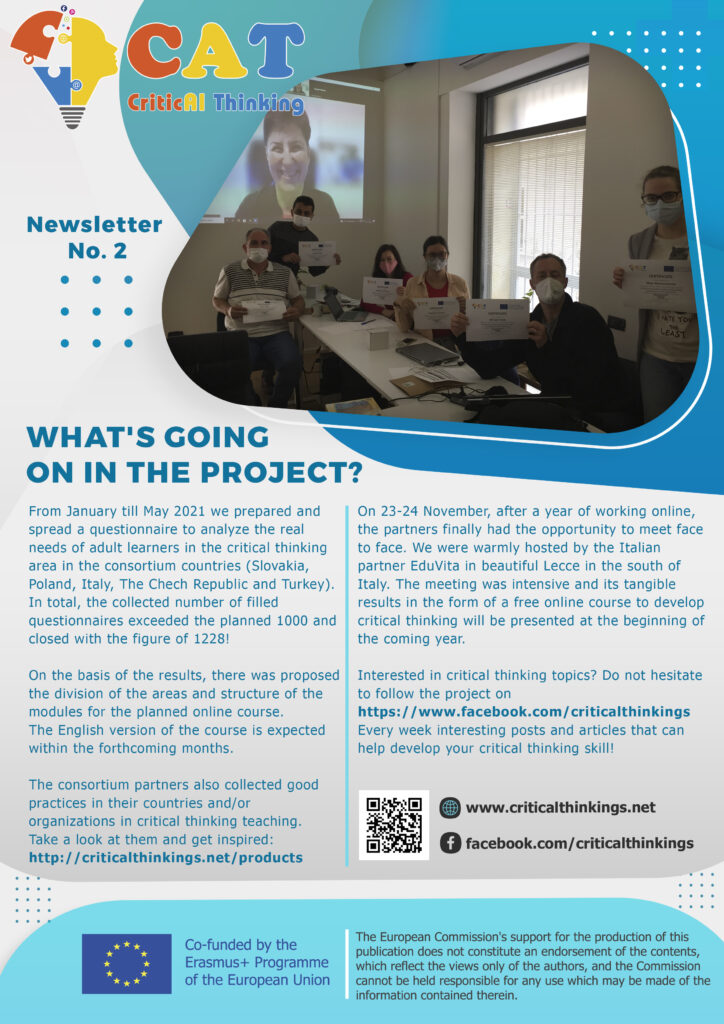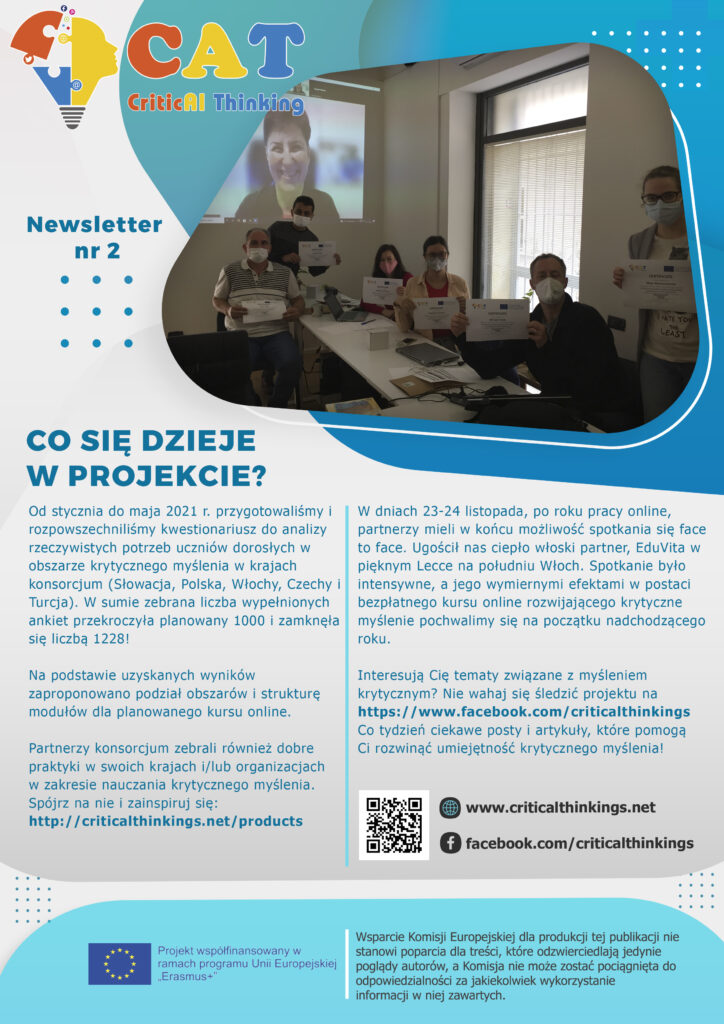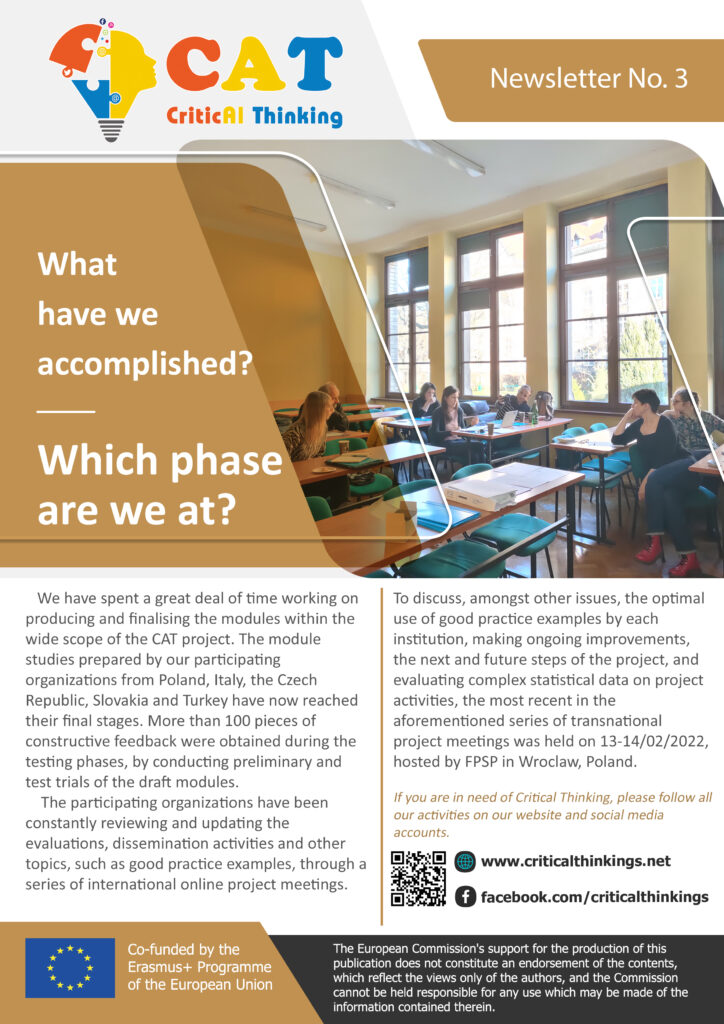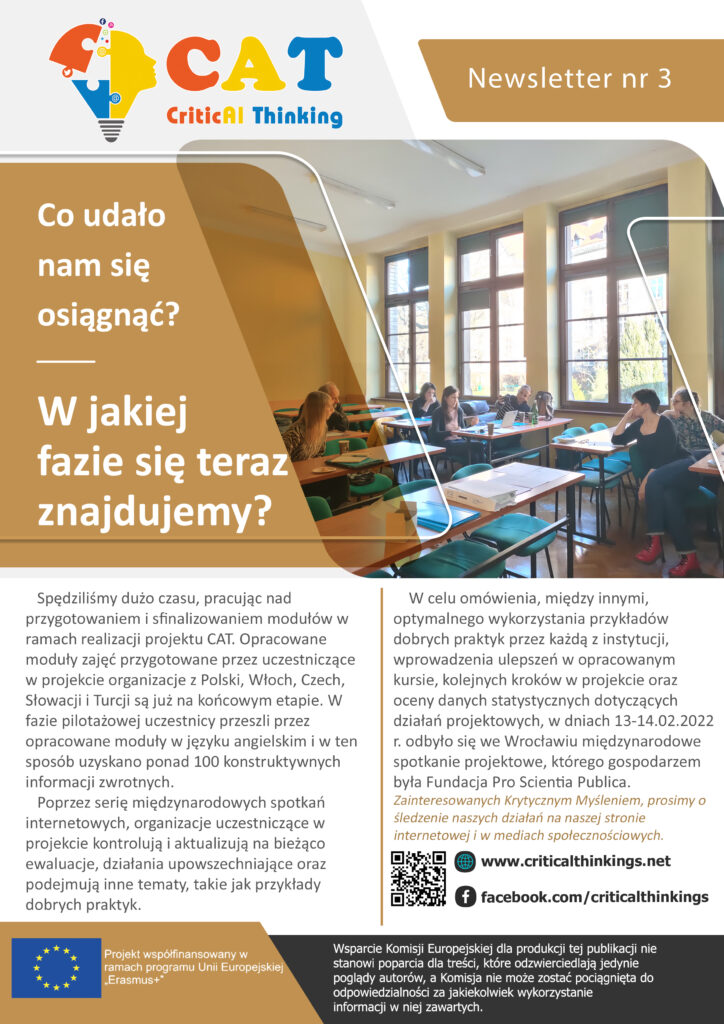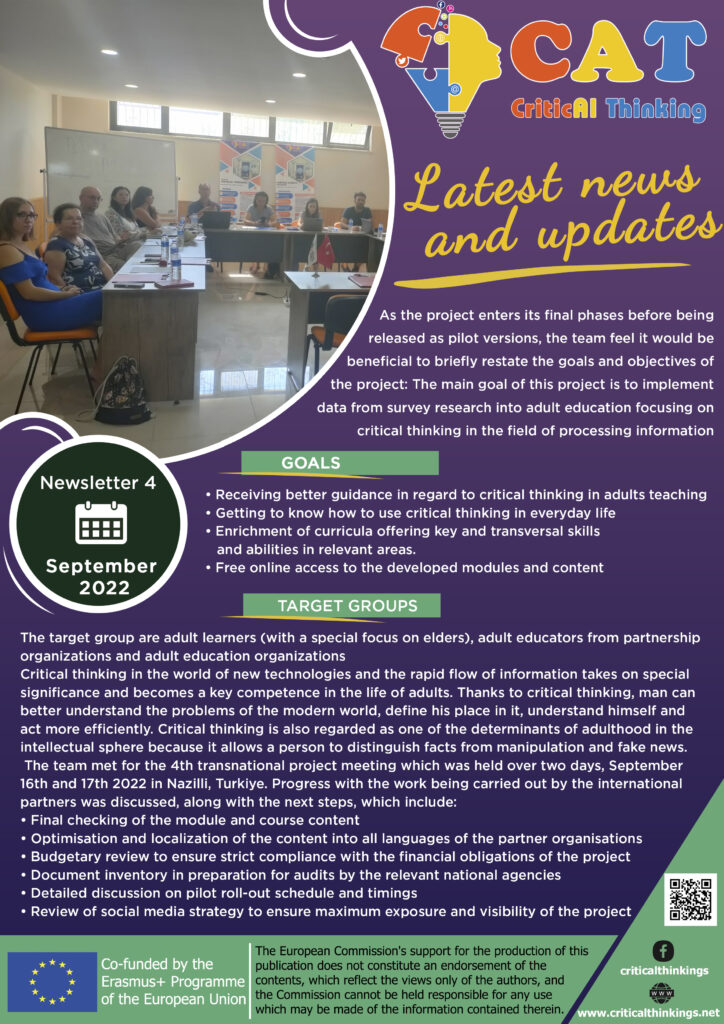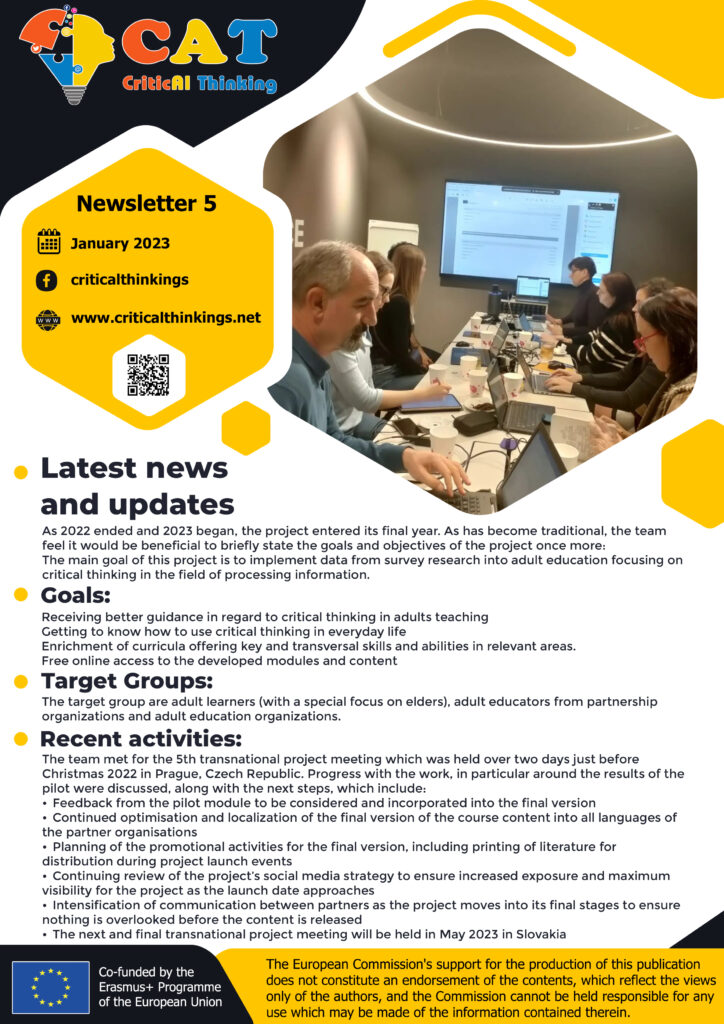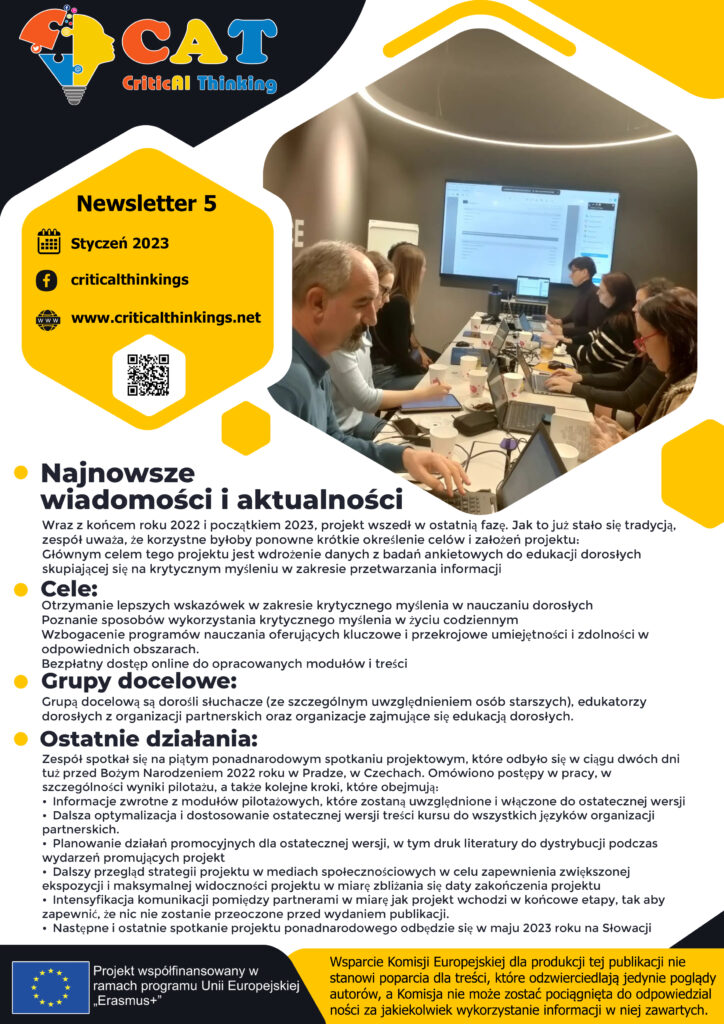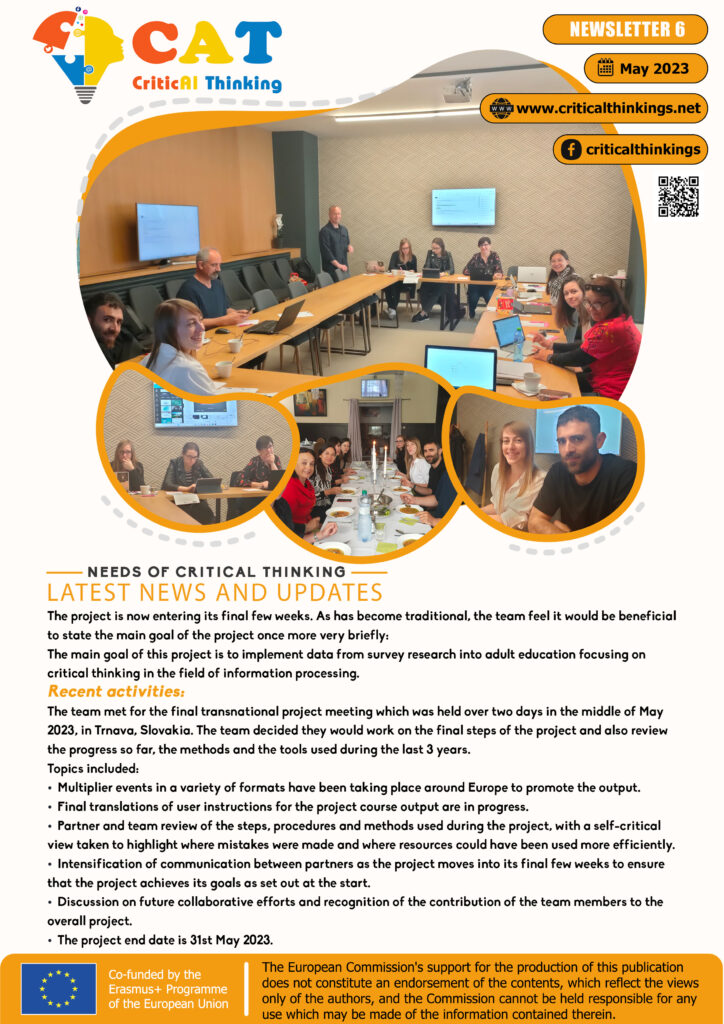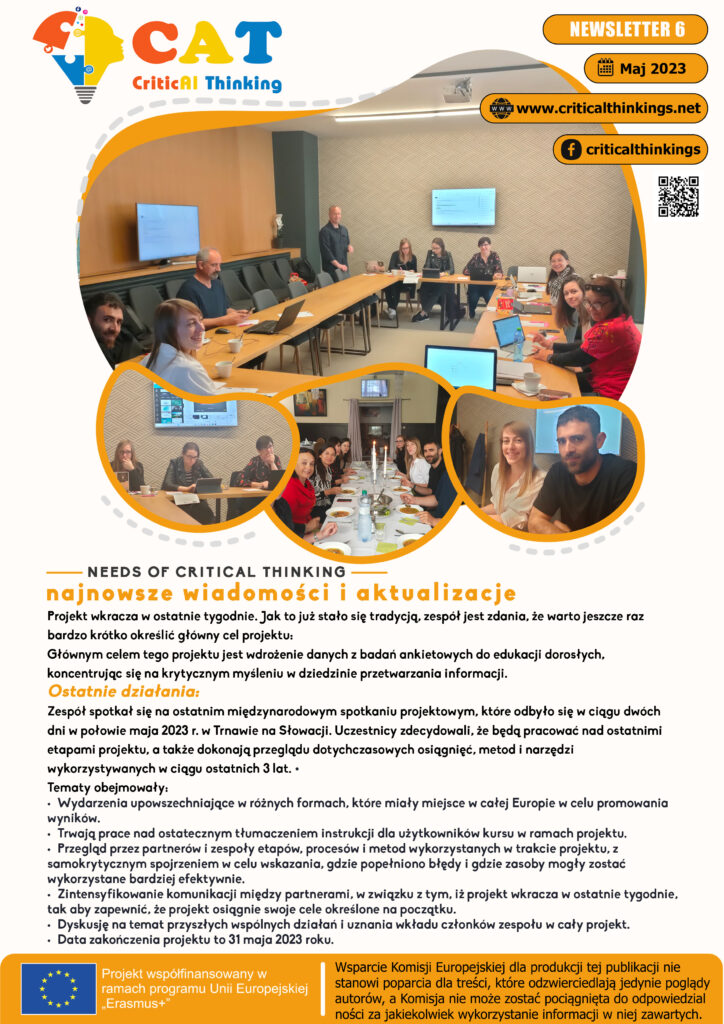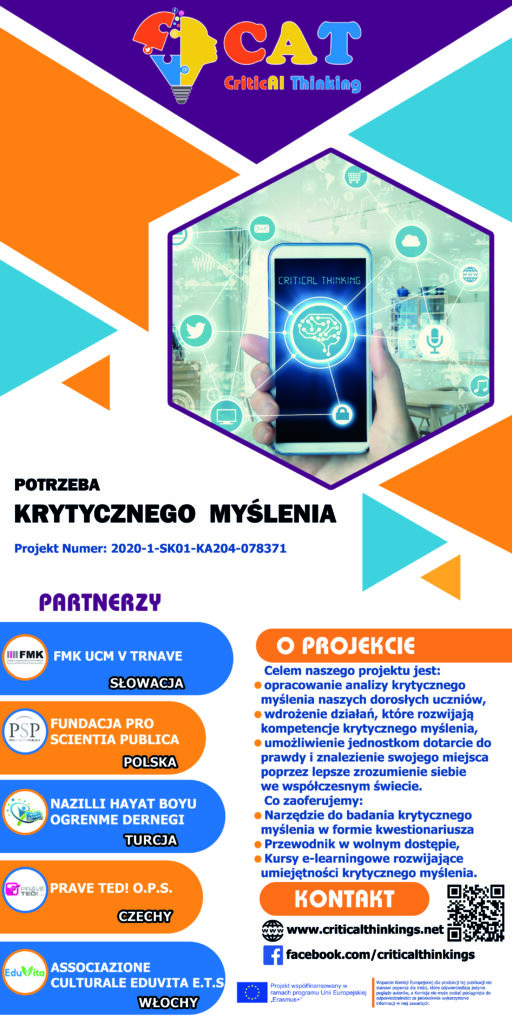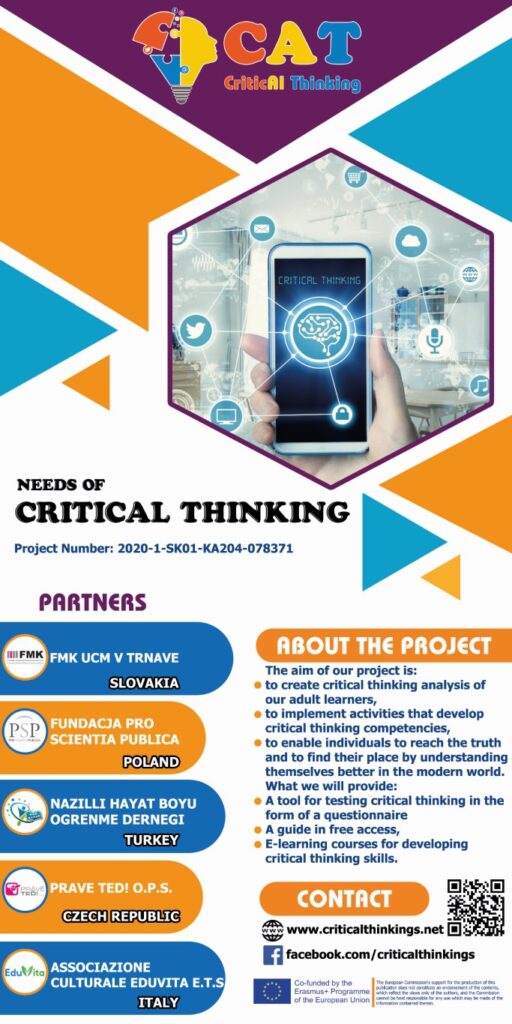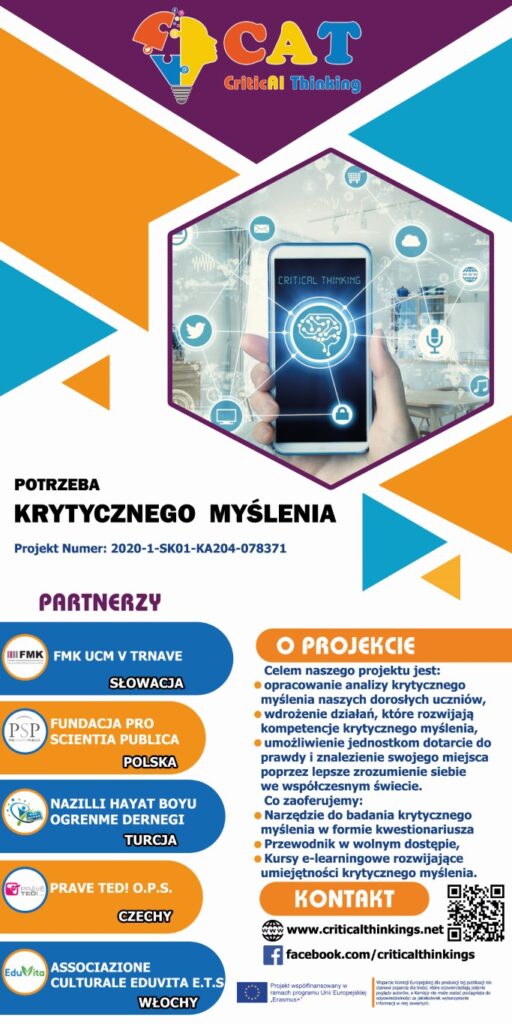 01/12/2021
On 23-24 November, after a year of work online, the partners had finally the opportunity to meet face to face.
Partners from Slovakia, Poland, the Czech Republic and Turkey were warmly hosted by the Italian partner EduVita in beautiful Lecce in the south of Italy.
It was a productive meeting: we discussed the creation of the online course on Critical Thinking development, which will be released at the beginning of the next year and available for free.
Our Polish partner Maja from Fundacja Pro Scientia Publica organised an internal workshop on how to construct the online course efficiently using Canvas. Hasan and Mustafa from Naz Hayat presented a dissemination report and proposed the solutions for further work. We summarised and evaluated the first year of common work and discussed the upcoming activities of the project.
/ W dniach 23-24 listopada, po roku pracy online, partnerzy mieli wreszcie okazję spotkać się twarzą w twarz.
Uczestnicy ze Słowacji, Polski, Czech i Turcji zostali serdecznie ugoszczeni przez włoskiego partnera EduVita w pięknym Lecce na południu Włoch.
To było produktywne spotkanie: dyskutowaliśmy nad stworzeniem kursu online na temat rozwoju krytycznego myślenia, który zostanie wydany na początku przyszłego roku i będzie dostępny za darmo.
Maja z Fundacji Pro Scientia Publica zorganizowała wewnętrzny warsztat na temat tego, jak efektywnie zbudować kurs online przy użyciu platformy Canvas.
Hasan i Mustafa z Naz Hayat przedstawili raport z upowszechniania i zaproponowali rozwiązania do dalszej pracy.
Podsumowaliśmy i oceniliśmy pierwszy rok wspólnej pracy i przedyskutowaliśmy nadchodzące działania w ramach projektu.
Po dwóch dniach ciężkiej pracy, partnerzy mieli okazję skorzystać z ciekawej wycieczki po Lecce, którą poprowadził Roberto Franco z EduVita.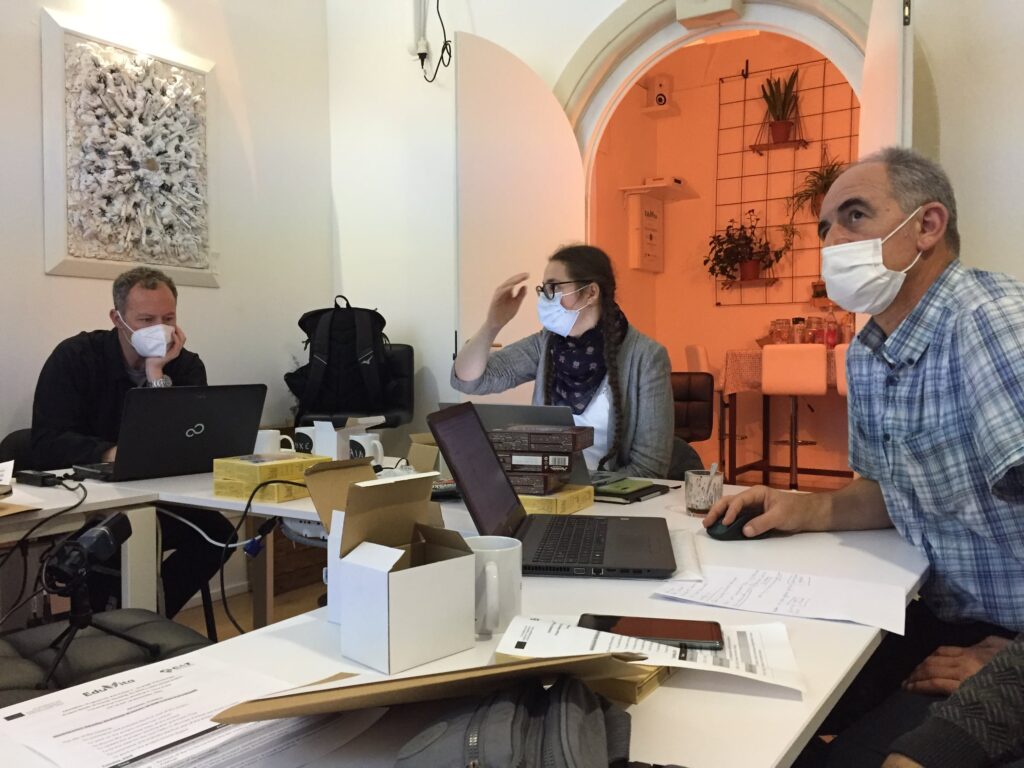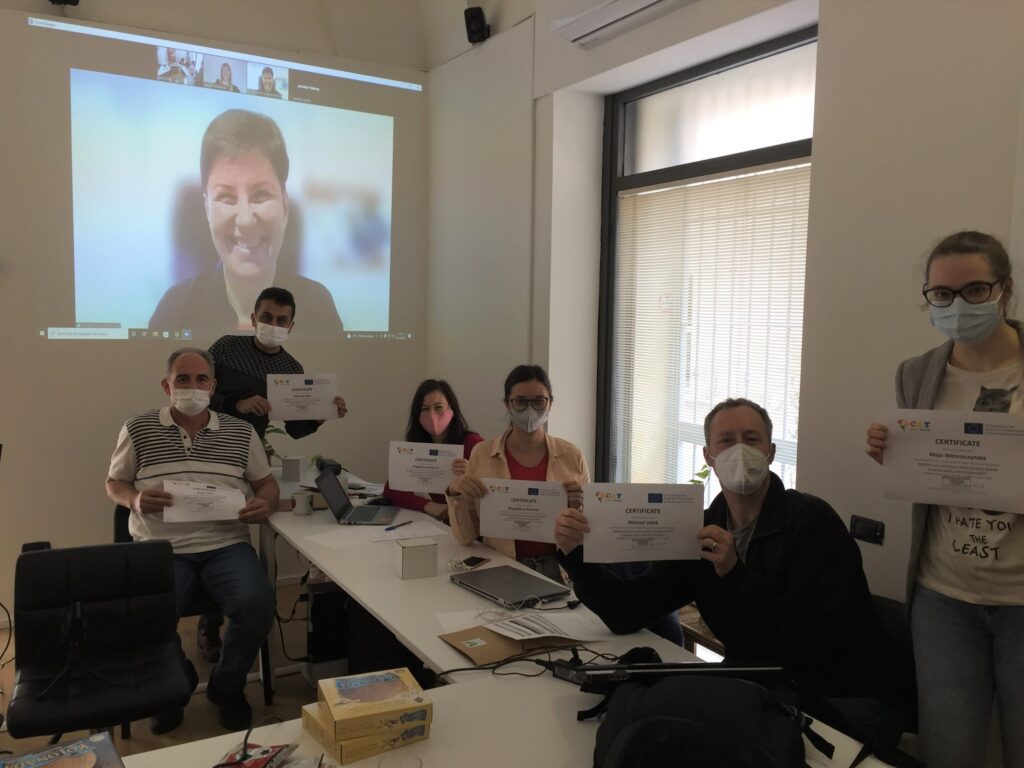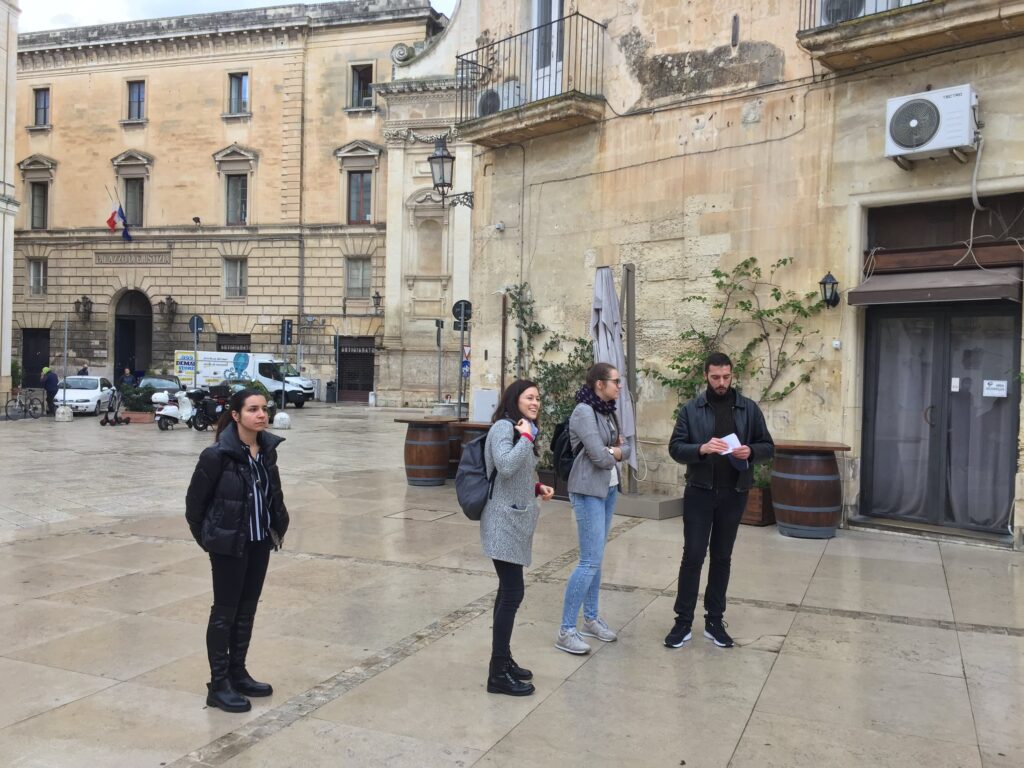 14/02/2022
On 12 and 13 February, the partners of our #criticalthinkingerasmus project met in Poland to continue working on our educational course.
We discussed the feedback of more than 40 participants from the Czech Republic, Slovakia, Italy, Turkey and Poland who went through the pilot version of the course in English. We found exciting solutions that will improve the course and make it more accessible, especially for older people. Now all project partners will work on the courses in their respective language versions for the next six months.
And as you can see, we also found some time to visit the fantastic city of Wroclaw!
W dniach 12 i 13 lutego partnerzy naszego projektu #criticalthinkingerasmus spotkali się w Polsce, aby kontynuować pracę nad naszym kursem edukacyjnym.
Omówiliśmy opinie ponad 40 uczestników z Czech, Słowacji, Włoch, Turcji i Polski, którzy przeszli przez wersję pilotażową kursu w języku angielskim. Znaleźliśmy interesujące rozwiązania, które usprawnią kurs i uczynią go bardziej dostępnym, zwłaszcza dla osób starszych. Teraz wszyscy partnerzy projektu będą pracować przez następne sześć miesięcy nad kursami w swoich wersjach językowych.
A jak widać znaleźliśmy też trochę czasu na zwiedzanie niesamowitego Wrocławia!